Database Upgrade Testing
Testing the fast and easy way: using the Query Wizards for quick data validation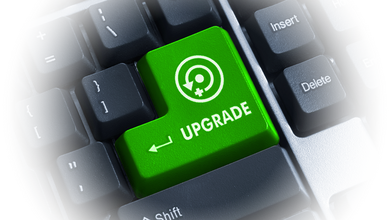 Why You Need It
Upgrading your database environment is a necessary component of your IT strategy. Testing throughout the upgrade process will mitigate the risk of lost, incomplete, or corrupted data, and help to ensure the success of your project.
The most important aspect of testing the database upgrade process is to make sure that the data within the older version transfers properly to the upgraded version, and to check that data integrity is maintained after the upgrade.
How QuerySurge Can Help
QuerySurge supports the complex logic that is needed to ensure that the transitioned data reflects your business logic, especially if the structure of the data changed as a result of the upgrade (due to switching vendors, differing versions, etc.).
Using QuerySurge to test the database upgrade gives your team the ability to:
Ensure data integrity after loading is complete
Prevent unexpected failures in production
Accomplish up to 100% data verification
The Wizards: Fast & Easy. No Coding Needed.
The latest QuerySurge release introduces Query Wizards into the product. The Query Wizards help the database team validate data with no coding required. They speed up the validation process dramatically and simplify the workload. The Wizards are useful for:
Quickly verifying table-to-table compares, validating hundreds of tables in minutes
Confirming that all rows have come over without issue and verifying row counts
Performing any necessary column-to-column compares
How the Wizards work
Start the Wizards (located in the Design menu)
Visually select current system and new system
Select Table Compare Wizard
Select schema(s) from current system and new system. Select as many tables as you want to compare
Select matching tables in current and new systems
QuerySurge then automatically creates a test suite with all of the tests
That's it! You can now run comparisons of hundreds of tables in minutes.
Other Valuable Features
Run the Test Suites now or schedule them for any date/time or to run automatically after an event
View results in QuerySurge and/or have reports of the results automatically emailed to your team
Supported Environments
QuerySurge supports 200+ data stores, whether a big data lake, data warehouse, traditional database, NoSQL document store, BI reports, flat files, JSON files, SOAP or restful web services, xml, mainframe files, or any other data store. See the full list here ⇒