QuerySurge in the
Microsoft Azure Cloud
Offering assures Data Quality anywhere, anytime with flexible environment and pay-as-you-go pricing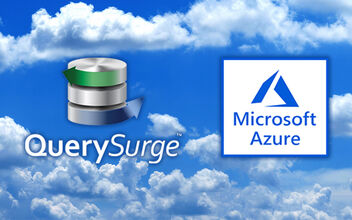 Data Quality Solution for the Cloud
QuerySurge, the smart data validation and testing solution, is now available in the Microsoft Azure Cloud through the Azure Marketplace as a pay-as-you-go model.
Why Microsoft Azure?
Microsoft Azure solves one of the biggest challenges that our customers face — procuring the optimal environment for QuerySurge.
Other business benefits include:
Flexible and controllable hardware and network costs
Increased speed of deployment with flexible scalability
Full disaster recovery capabilities
A global presence that extends your reach across 60+ Azure regions with speed and scale to meet your needs
Enterprise-level security from the ground up
What is the Azure Marketplace?
The Azure Marketplace is an online catalog containing thousands of applications and services designed and optimized to run on Microsoft's Azure public cloud. Microsoft and its technology partners are responsible for developing the products and services you find on Azure Marketplace.
Free Trial and New Pay-As-You-Go Model
Start out with a free, 1‑month trial of QuerySurge. Then purchase QuerySurge with new pay-as-you-go pricing. Pay only for what you use each month, with no upfront commitment. Cancel anytime.
Integration with Microsoft Azure DevOps
Azure DevOps is Microsoft's Software-as-a-Service (SaaS) platform that provides an end-to-end DevOps toolchain for developing and deploying software.
The QuerySurge integration with Azure DevOps allows you to automate data integrity and data validation in your DevOps CI/CD pipelines. Using QuerySurge throughout the development cycle ensures that data changes, whether it be database migrations or schema changes, perform as expected throughout development and their corresponding releases.
Leverage QuerySurge to test the following target data stores in Azure:
Azure SQL Server
Azure Synapse Analytics
Azure Databricks
Azure SQL Data Warehouse
Azure SQL Edge
Azure SQL Database
Azure Data Lake
Azure Cosmos DB
Azure HDInsight
Power BI
See all the target data stores (200+) that QuerySurge supports here ⇒