Enterprise Application / ERP Testing
See how QuerySurge performs data integration testing with internal & external data feeds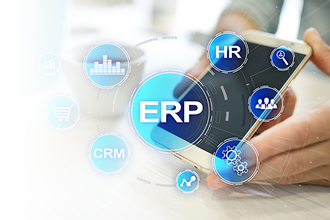 Integrating Internal & External Data Feeds
Your organization has a major system that is central to running its business
maybe it's an ERP system running SAP, Oracle, Lawson or maybe…
a CRM system running Salesforce or Microsoft Dynamics, or…
it's a banking or trading system at a bank or other financial institution, or…
an HR system running payroll through PeopleSoft or Workday
Whatever the system is, it is constantly sending or receiving data feeds (generally in XML or flat file formats) to or from a customer, vendor, or another internal system.
These major data interfaces are present in companies across every industry — from Financials to Pharmaceuticals, and Retail to Utilities — and they are handling data that is crucial to each business. As systems become more complex, it becomes more difficult for you to catch bad records or major data defects effectively before they reach their target system.
Catch those "hard-to-find" data defects
Your systems could be sending/receiving hundreds of feeds from different applications or data sources and each with different owners. In these circumstances, you may have little to no control over the format or quality of the data. Now this data needs to be integrated, mapped, and transformed into your systems. Can your existing manual testing process handle this task?
The challenges you're facing:
Business: You're working under time and resource constraints, so you need to speed up testing yet still increase coverage of data tested
Technology: There is no easy way to natively test flat files, XML files, databases or Excel against any other data format
Resources: You do not have enough people to test all of the data from the data feeds all of the time
You know that this data needs to be consistently accurate and reliable — and catching any bad data or data defects seems almost impossible.
Solve your Data Interface testing challenges
QuerySurge is built to automate the testing for any movement of data, testing simple or complex transformations (ETL), as well as data movement without any transformation.
Test across different platforms, whether Big Data, data warehouse, database(s), NoSQL document store, flat files, json, web services or xml. more ⇒
Automate the testing effort from the kickoff of tests to the data comparison to auto-emailing the results. more ⇒
Speed up data testing and validation by as much as 1,000 times. more ⇒
Schedule tests to run immediately, every Tuesday at 2:00am or after an event, such as an ETL job, triggers the tests.
Utilize the Data Analytics Dashboard and Data Intelligence Reports to analyze your data testing.
Get 100% coverage with a dramatic decrease in testing time
It will allow you to quickly compare file to file, file to XML, and XML/files to a database without having to import your files into a database first (it also compares database to database).
Enterprise Apps/ERPs that QuerySurge Tested
QuerySurge supports PeopleSoft, WorkDay, Salesforce, Lawson (Oracle), Clarity (Broadcom), Clinical Trial Management System (Oracle), Custom brokerage trading systems, and many other ERPs, CRMs and enterprise apps.
View supported technologies here ⇒
QuerySurge Implementation: Where can it be installed?​
QuerySurge can be installed on a bare metal server, on a virtual machine (VM), in a private or public cloud, or use our pay-as-you-go service in Microsoft Azure.
...on a Bare Metal Server

...in a private or public Cloud

...with our pay-as-you-go Microsoft Azure Cloud offering
QuerySurge Implementation: How long can it be used?
QuerySurge Subscription licenses run in 12-month allotments and our Azure offering is hourly, so it can be used for as short a time frame as needed.
QuerySurge Licensing and Pricing Options​
Choose the QuerySurge licensing and pricing model that best fits your company's needs. All licensing and pricing information can be found here»​