QuerySurge Launches Generative AI Solution that Simplifies ETL Testing and Provides Data Quality at Speed
Thursday, June 22, 2023 9:00 AM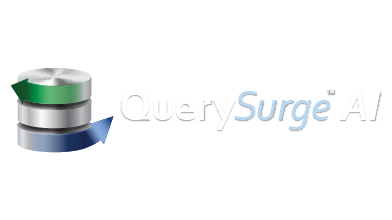 New AI paradigm dramatically increases ROI by accelerating test creation and reducing skillset needs with no-code low-code AI solution
New York, NY, June 22, 2023

QuerySurge, the leading data validation and ETL testing solution, just released QuerySurge AI, a generative artificial intelligence solution that automatically creates tests based on data mappings.
QuerySurge​'s new AI-powered technology provides a radical shift in ETL testing. The typical data warehouse project has between 250 to 1,500 data mappings and test creation for each mapping requires approximately 1 hour per test. With QuerySurge AI, test creation happens in minutes with extremely high accuracy. QuerySurge AI converts data mappings into tests written in the data store's native SQL with little to no human intervention, meaning tests can be created very easily from this low-code or no-code solution.
"Artificial intelligence is a disruptive technology and will revolutionize the software industry as well as other industries," said Bill Hayduk, CEO of RTTS – the parent company of QuerySurge. ​"We are excited about how quickly and easily QuerySurge AI creates tests. This is a huge game-changer for data quality in general and a radical shift for QA and Testing teams".
The data validation and ETL testing process is difficult and time-consuming without an automated ETL testing solution like QuerySurge. Creating tests between source and target data stores requires SQL skills, lots of time and can typically only test from a source database to target database or to a target data warehouse. Then exporting the results of the source and target results to two Excel spreadsheets and comparing them by eye – also known as ​"stare and compare" — takes an inordinate amount of time and is incredibly inefficient.
QuerySurge originally improved this process through its Query Wizard by visually creating table-to-table, column-to-column and row count tests very quickly for non-transformational tests and provides connections to 200+ different data stores such as json and flat files, Excel, xml, Hadoop, various databases and data warehouses and more. But tests with transformations still required a resource with strong SQL skills.
"QuerySurge AI offers a transformative solution to the primary challenges encountered by testing teams" stated Matthew Moss, QuerySurge Product Manager. Firstly, it addresses the scarcity of skilled testing team members proficient in test creation. Secondly, it significantly reduces the time required for test creation."
QuerySurge AI is a free module that leverages AI to automatically convert data mappings into data validation and ETL tests, including transformational tests — simplifying the process, saving hundreds of hours of time and providing a massive ROI.
"QuerySurge plus AI puts an incredible amount of power into the hands of data-knowledgeable but non-technical team members" said Jeff Bocarsly, PhD, and Chief Architect of QuerySurge. ​"AI is the ​'magic bullet' that data teams have been looking for, to enable data quality contributions from across the team."
To learn more, visit www.QuerySurge.com
About QuerySurge:

QuerySurge is the smart data testing solution that automates the data validation and ETL testing of big data, data warehouses, business intelligence reports and enterprise applications with full DevOps functionality for continuous testing. Launched in 2012, QuerySurge has over 200 corporate customers in 30+ countries and a global partner ecosystem of hundreds of leading technology vendors, systems integrators & consulting organizations that bring automated Data Testing to the enterprise.
About RTTS:
RTTS, the developers of QuerySurge, is the premier pure-play QA and testing organization that specializes in test automation. Headquartered in New York City, RTTS has had 1,000+ successful engagements at over 700 corporations since 1996.
RTTS focuses on improving software and data quality through test automation. We create QA strategies, provide software and implementation services targeted at the application and data spaces.
To learn more, visit www.rttsweb.com